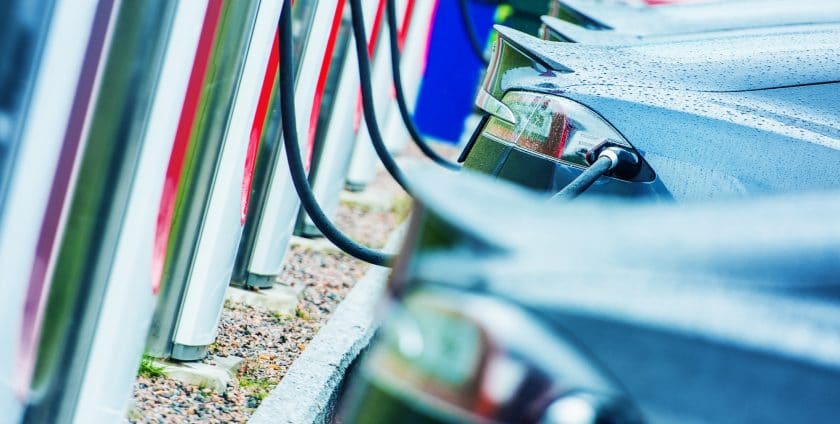 5 Things affecting the future of Electric Vehicles.
In my last blog "5 Things I wish that I had known before I bought a Battery Electric Vehicle", I described what you should consider when buying a full electric car (EV).  This blog looks at some issues that will be important over the next couple of years.  So what are the 5 Things affecting the future of Electric Vehicles?
1.      Battery Range
Currently the published range figures for EVs, like those for all vehicles, are overoptimistic.  The real-world ranges are probably by about 20% less than the published figures and I doubt that even the new WLTP standard will eliminate difference.
Over the next couple of years new models will have significantly greater ranges.  Mercedes have already announced the EQS with a 400-mile range, but it does cost over £100,000.  Tesla have announced two new models, one with a 340-mile range and another with a 360-mile range.  However, at the more affordable end of the market three of the most popular cars tell a different story; the Mini Electric – 140-145 miles range, the Vauxhall Corsa-e – 209 miles range and the Renault Zoe – 238 miles range.  For vehicles in this class, with the possible exception of the Zoe, long distance travel could be somewhat onerous, due to the number and length of charging stops required.  Even the Zoe, and some of the more expensive cars, will find longer journeys off the main routes a bit of a trial.
2.      The Charging Network
The public charging network needs considerable expansion of Fast (40kW to 50kW) and Rapid (100kW to 150kW) chargers.  IONITY plans to create more than 40, 350kW charging stations across the United Kingdom.  BP Pulse plans to double its network to 16,000 charge points by 2030.  Both of these aspirations are encouraging.  The EU has predicted an annual  31.1% increase by 2024 in charge points across Europe (including the UK). Nonetheless, I am not sure that the growth in charge points will meet the growth in EV ownership.  In the UK in 2020, the ratio of EVs to public rapid chargers was 205:1.  Even by 2030 the projected ratio in the UK is only a little better at 197:1.  This may not be as serious problem for drivers with home or work chargers, but for those without either option, it could be a problem that will grow over the next few years.  Realistically, all new public charge points should have rapid or ultra-rapid chargers.
3.      The problem for those in Towns and Cities.
According to James McKemey, Head of Insights at Pod Point, those without home or work charging points are in the minority.  Although, this is true it is potentially a large minority and those who live in cities and towns face the biggest problem.  Many urban dwellers do not have off-street parking, which would allow them to fit a home charger.
The GoCompare Website states that, in 2025 sales of electric vehicles will be double what they are today, meaning there will be about 2 million electric vehicles on the road.  As there were 38.6 million licensed vehicles in Great Britain as of March 2021, this may not sound many.  When one considers that nearly a third of car-owners in the UK have no off-street parking, it is reasonable to assume that the demand for inner city charge points will increase.  Satisfying this demand will not be simple.
One option could be to add chargers to every residential street, but how many would be required in each street and what should be the power rating be?  The map below, courtesy of ZapMap, covers a section of North London and shows that of the limited number installed, most of the street-side chargers are 5kW or 7kW (yellow and blue markers).  These require many hours to provide a reasonable level of charge.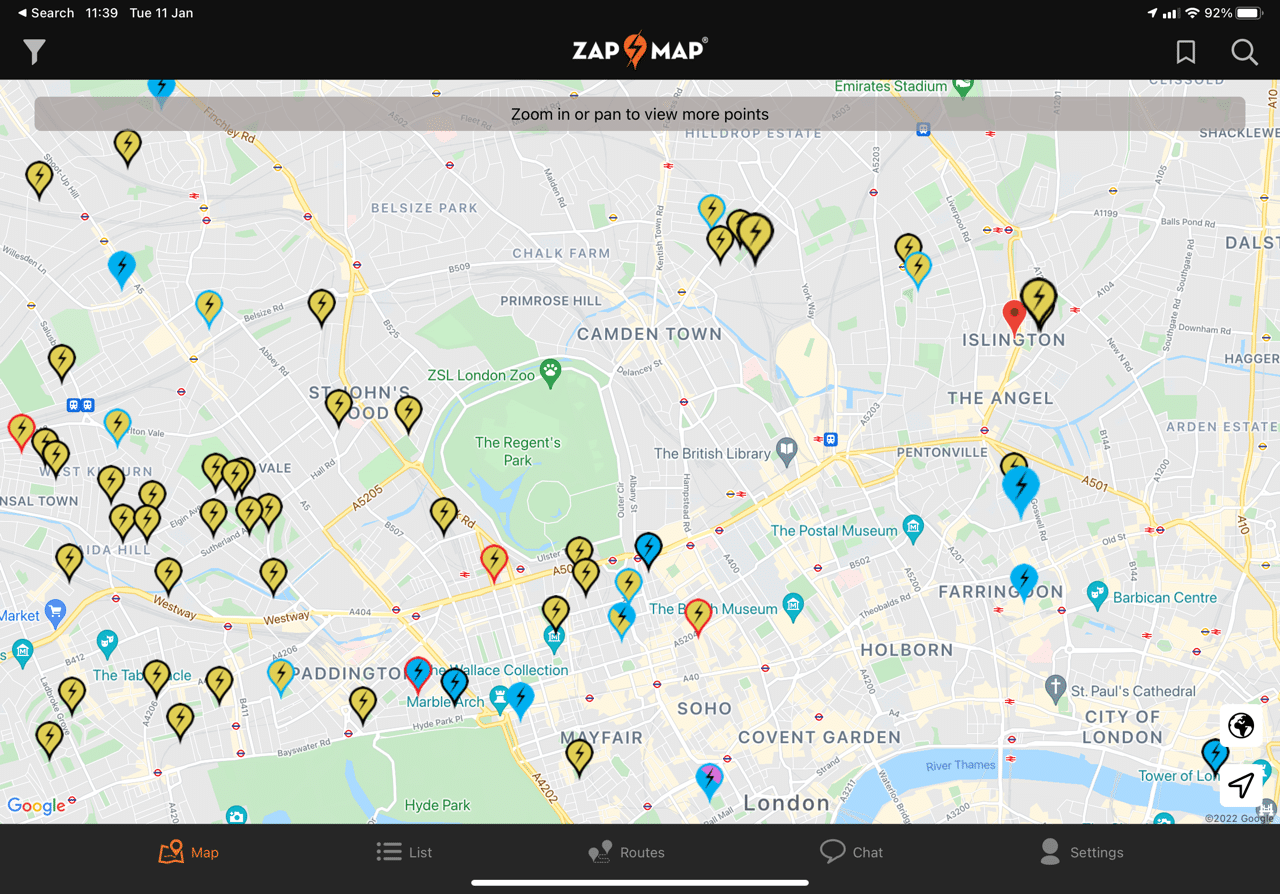 Alternatively, rapid or ultra-rapid (up to 350kW) chargers could be installed, which would reduce the number needed on each street.  There are two problems here.  First, there is the concern that always using rapid or ultra-rapid might affect battery life.  Recent research indicates that rapid charging may be less of a problem than first believed, but there is still some degradation of battery life.  Secondly, there is the impact of installing a large number rapid or ultra-rapid chargers may have on the local electricity infrastructure.  The blocking of charge points after the car has charged but not been moved is a problem in both cases.
Conversely, you could create a number of EV Hubs, like the one Shell has in Fulham, South West London.  This site has nine ultra-rapid chargers, includes a Costa coffee shop and a Waitrose, allowing drivers to relax or shop while their cars are being charged.  This sound good, but space is always at a premium in our towns and cities.
4.      The take-up of Electric Vehicles
In 2020 just over 100,000 EVs were sold out of a total of over 1.6million new car sales. The GoCompare study mentioned above expects there to be another 500,000 EV on the road by the end of 2023.  The top end models, such as the Mercedes EQC and the Jaguar I-Pace are exciting cars, but are unlikely to be market leaders due to their price and higher insurance rating.  Hence, the more affordable battery electric vehicles need greater focus, since ultimately it is these brands that will have mass appeal and therefore the greatest market impact.  Currently, such models remain significantly more expensive than their fossil-fuel counterparts.  The mini-Electric is £10,000 more expensive than its petrol-powered version.  When it was available, the VW e-Golf came in at about £31,075, which is £5,000 to £7,000 more than equivalent fossil-fuel versions.  Similarly, the electric Vauxhall Corsa versions are about £7,000 to £8,000 more expensive than their fossil-fuel equivalents.
A 2020 study undertaken by Castrol stated that the take-up of electric vehicles would be limited until the following criteria are met:
A 30-minute charge time
A real-world range of 283 miles
A cost of approximately £21,620.
The GoCompare study also indicates that although the first two requirements will probably be met by 2030, the price point is likely to remain above £28,000.  This means that rapid take-up of existing EV models is unlikely to happen any time soon, unless other tax incentives or other Government interventions are enacted.
The same study predicts that about 250,000 new EVs will be sold each year from now to 2030, a considerable increase on 2020.  Although, to put this into context, there are currently 38.6 million cars registered in the UK.  It is also estimated that around two million cars are scrapped each year, but not all will be replaced.  The Society of Motor Manufacturers and Traders estimates that the average age of a car when it is scrapped is around 13 years.  This implies that 80% of new cars bought up until 2030 will still be petrol or diesel and many will be running into the 2040s.
Thus, the impact of the 2030 ban on the sale of petrol and diesel vehicles is unlikely to have the medium-term impact the UK government anticipates.  If the Government wants more people to move to EVs, it is going to have to provide hefty subsidies to encourage the transition and soon.  Were they to do this successfully, they would also need to increase the parallel expansion of the charging network over what is currently projected.
5.      The Prospect for Hydrogen powered Electric Vehicles
Hydrogen-powered cars have been around for some time and many people believe, with justification, that they will be the future for road transport.  They are also electric vehicles, but instead of a battery, the electricity is provided by a hydrogen fuel cell.  This fuel cell produces electricity by a chemical reaction between the stored hydrogen and oxygen from the air, with water being the by-product.
Unfortunately, hydrogen fuel cells will not become a realistic option, until an economic source of Green Hydrogen (produced without CO2 emissions) is available.  Finding reliable information on the future of green hydrogen production is difficult.  That said, even if the considerable investment in Hydrogen cell development is forthcoming, I cannot see hydrogen-powered cars making a significant impact before 2040.
If you have safety concerns about the use of hydrogen, please read my blog "Is Hydrogen Safe as a Fuel? "  In my opinion, these are currently the 5 Things affecting the future of Electric Vehicles.
Glen Winkfield
glenw@ghginsight.com
24th January 2022

Further Information
If you'd like further information on Greenhouse Gas reporting, Streamlined Energy and Carbon Reporting (SECR), supplier environmental questionnaires, or how to achieve zero carbon emissions, then please contact Glen Winkfield at glenw@ghginsight.com. or follow this link…