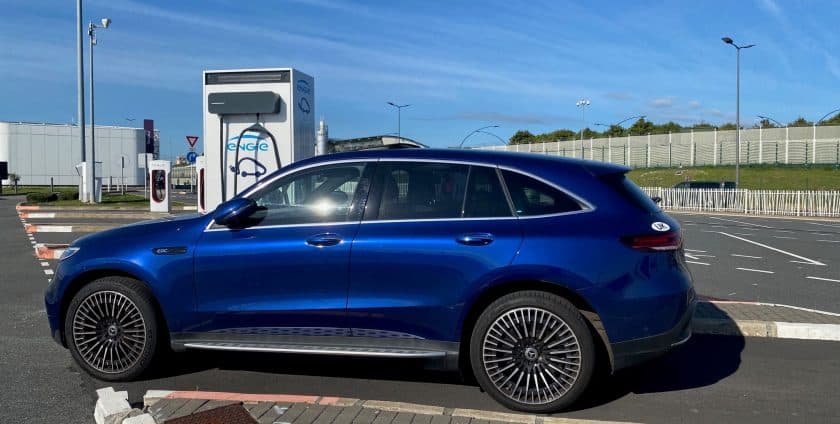 5 More things to know before you take a battery electric car to France
5 More things to know before you take a battery electric car to France, follows on from my earlier blog, 5 Things to know when taking a Battery Electric Car to France.  This year things have changed.  The most important things being; First, the dramatic increase in charge points particularly the ratio of charge points to EVs, 9:1 in France as against 23:1 in the UK.  I would say that France is now a better place to own an EV than the UK.  Secondly, the appearance of costly overstay fines.
Last year we travelled across north western France from Roublais, near Lille, round Paris to the Île de Ré, near La Rochelle, on the Bay Biscay.
We used the Tunnel, but chose to pay the considerable surcharge for Flexiplus (around double the standard fare).  You get priority boarding on any shuttle leaving that day.  The Flexiplus lounge provides free food and drink as well as access to two EV charge points.  It is expensive, but removed the stress we experienced last year's. The return journey was a combination of business meetings and vineyard visits.  We stayed in Reims, Nancy, then Orange, for Chateauneuf-du-Pape, on the way down to Antibes on the Côte d'Azur.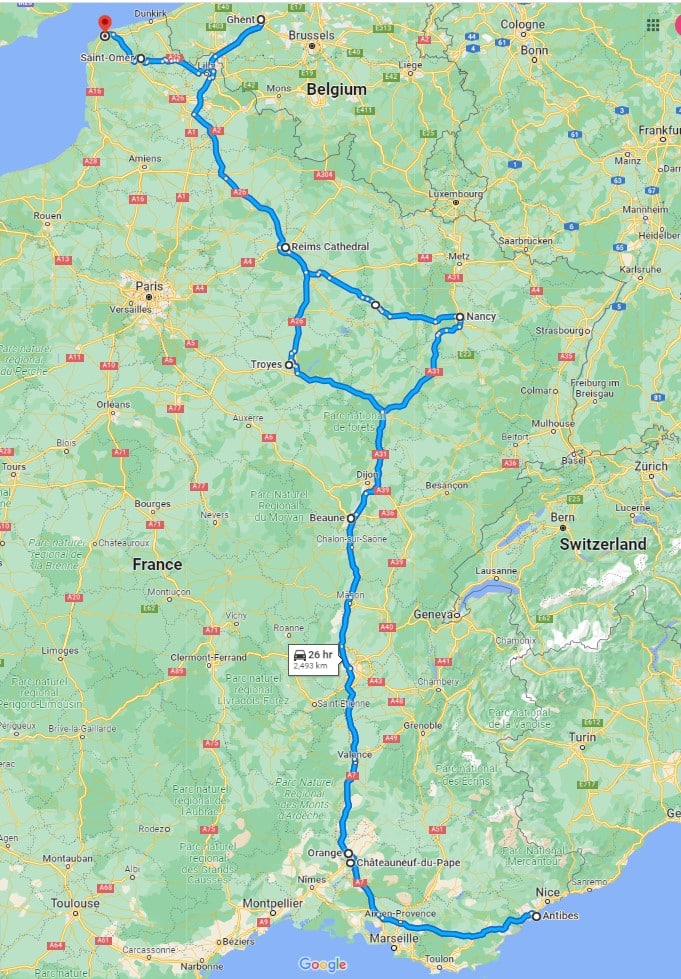 The return trip was via Beaune, Troyes for more champagne, Ghent in Belgium, then Saint Omer to give us an early start for the return crossing.  So here are "5 More things to know before you take a battery electric car to France".
1. The number of Charge Points has improved dramatically.
Last year, with one exception, we had to queue every time we stopped to charge.  This year, despite traveling further, we only had to queue once!  By December 2022 France had 82,000 public charging points, a 53% increase over the previous year.  South of Nancy we found many newly installed charge points, but importantly each location had six to eight rapid/super-rapid chargers (one location had 14 chargers).  The UK figure as of May 2023 was 44,408 electric vehicle charging points across the UK, across 25,521 charging locations. Times change.
Total Energy have obviously invested heavily in new locations.  Although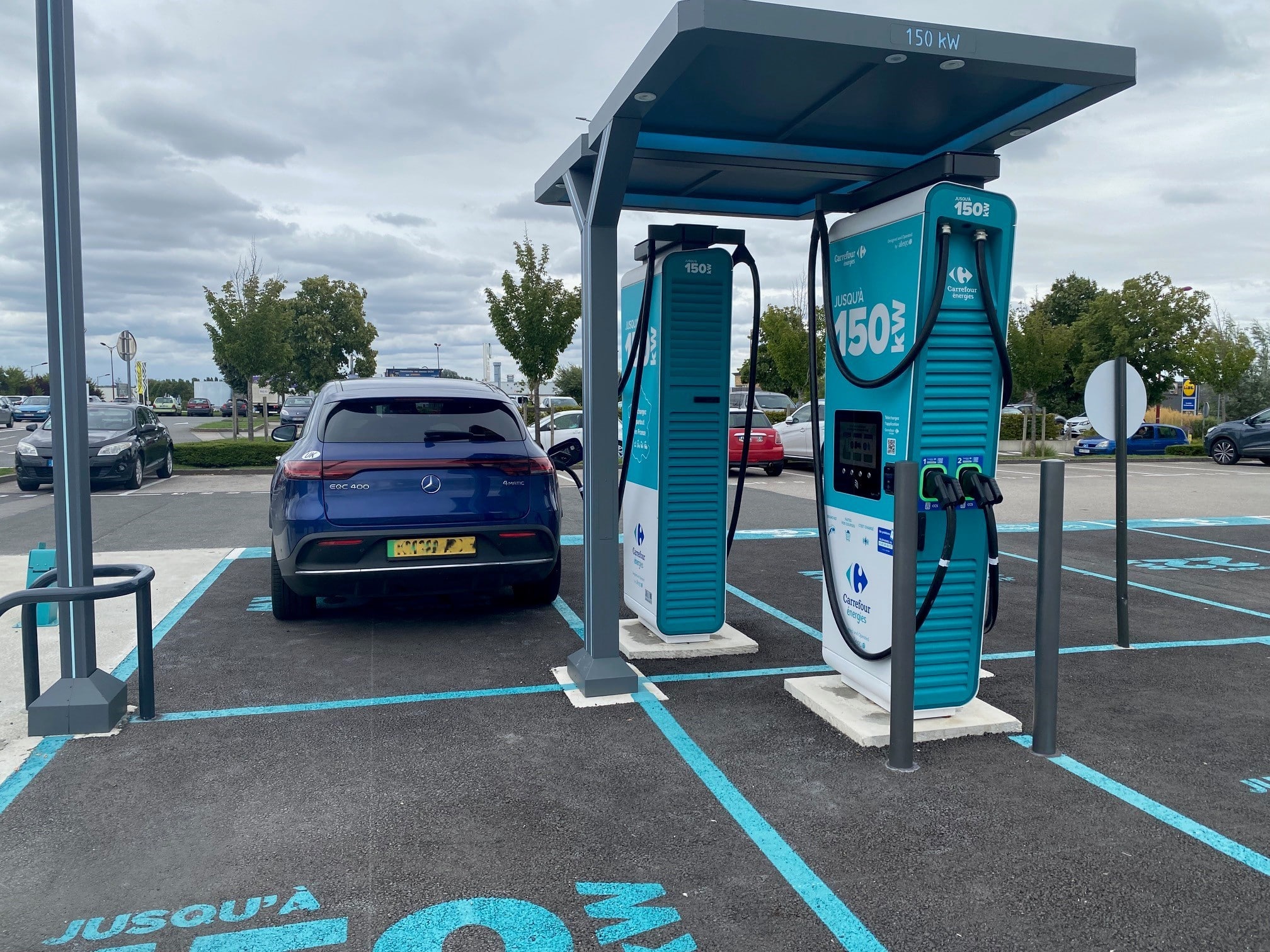 I could not get their app to work, the Web site worked well and showed how busy each location was.  Our experience north of Paris was not as good.  It was the only time we had to queue to charge. The locations we used there, had fewer chargers, but we might just have been unlucky.
The plans by E.Leclerc and Carrefour, supermarket chains, to install rapid and ultra rapid chargers have come to fruition.  A 40-minute shop gave us an almost complete charge.  The Chargemap app will help you find them.
2. The Infrastructure still has issues
Some of these new sites suffered from technical issues.  I do accept that new infrastructure will have teething problems as new networks bed in.  At two of the Total Energy sites, several of the chargers had failed.  On one site, two of the chargers actually failed as we tried to connect and two were locked off.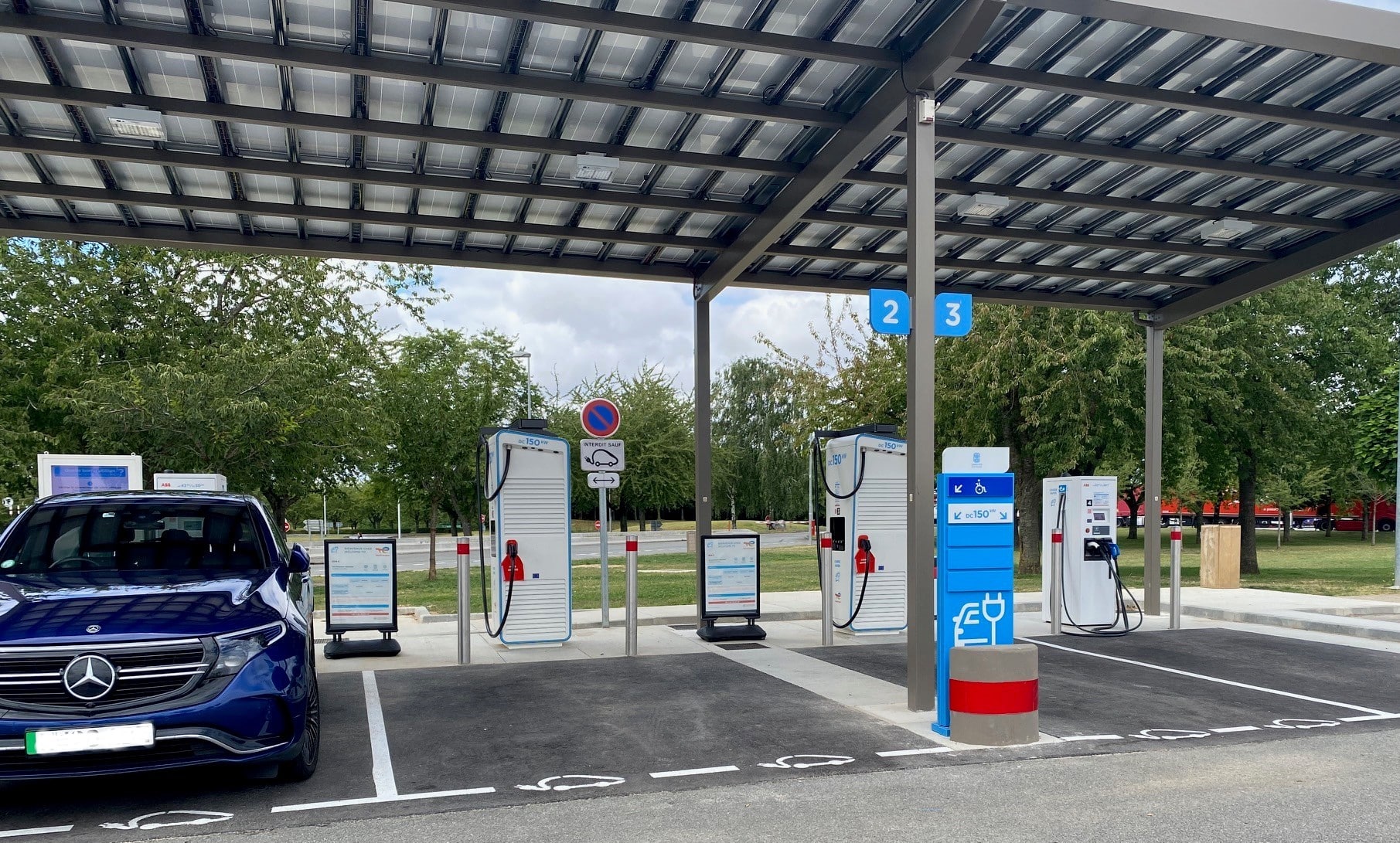 Unfortunately, Total Energy's website was not showing their faulty chargers.  To be fair, the other site had a Total Energy staff member on hand to reset the problem charger after ever use.
3. Look for hotels and carparks with chargers
We found that Expedia allows you to filter on hotels with EV chargers.  These are usually 7kW chargers.  The Accor group, which includes Mercure, Novotel and Ibis, have installed chargers in many of their hotels.  Of the six of their hotels we used, five had onsite chargers.  This should mean that you start off with a full charge the next morning.  However, as you will see in the next section there are issues.
All the car parks we used in Cannes, Antibes, Nice and Monaco had EV chargers, usually between six and eight.  The free car parks in some of the tourist-oriented villages further inland, also had a couple of chargers.   Some of the public car parks further north also had a couple of EV chargers.  We could not always get onto them, but they were there.  Again, use with caution as you will see in the next section.
4. Look out for overstay fines on EV Chargers
We were really caught out by overstay fines and it took us some time to find out.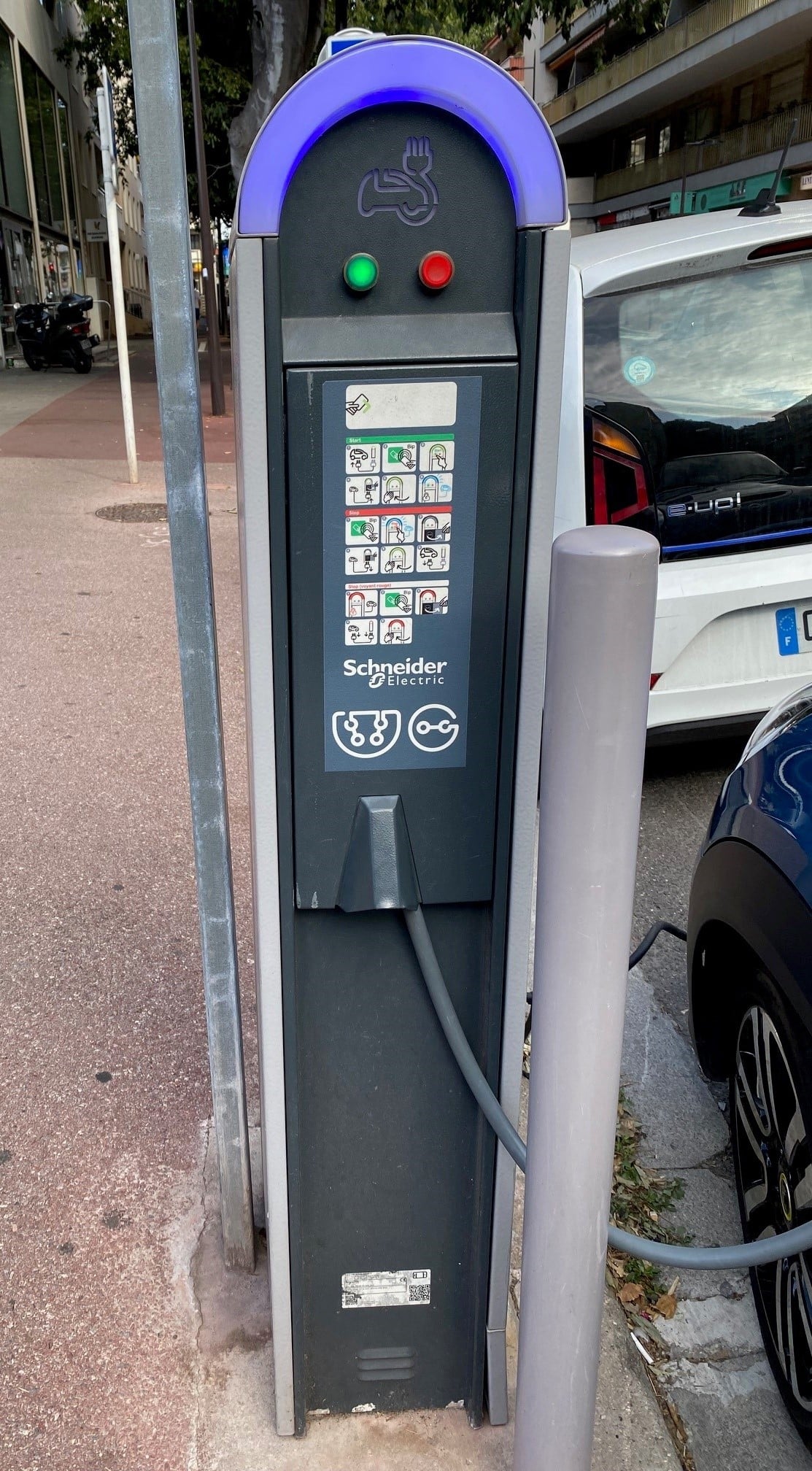 It appears that if you stay on the charge point after you have fully charged (we are guessing at 45 minutes) you accrue a hefty fine.  Not unreasonable on a rapid a charger, but this was on the standard 7.2kW chargers in hotels and carparks.   None of these slower chargers, gave any indication that a fine will be applied, in either English or French. Very annoying. We are currently disputing a £140 charge from an hotel in Orange.

If you are staying in a hotel, do they really expect you to get up at 3am to disconnect from the charger?  Apparently so.  This has never happened to us in the UK.
The charger to the right, common in the south of France, makes no mention of overstay fines.  The only charger that did was a fast charger in one of the aires (service stations), but that is quite reasonable.
5. Not everyone respects EV charging bays
This came in two forms.  The first, and most annoying, is when a non-EV parks in a EV charging point because there is nowhere else to park.  This happened to us a couple of times in Antibes.  They did not appear to stay for long, just long enough to force us to try and find a charge point elsewhere.  To be fair, this has happed to us in the UK.
The second form was less intrusive and did not affect us this trip.  However, it could be an issue in the future.  Total Energy have very thoughtfully placed roofs over the chargers at their charge points.  This was very welcome in the heat of late July this year.  However, drivers of fossil fuel cars, particularly those with young families, also thought so, and availed themselves of the shade, blocking access to the charger.
5 More things to know when taking a Battery Electric Car to France, final thoughts.
Our journey was more relaxed than in 2022.  The number of rapid and ultra rapid chargers has noticeably increased, making the experience more acceptable.  It still needs to improve, as a number of locals told me.
True, there is still an underlying concern with a Battery EV that is not there with a petrol or diesel car.  However, if we decide to drive to France next summer, we will not suffer the angsts we had this year.
 The ratio of cars to charge points in France, is a around 9:1 (around 740,000 cars to 82,000 charge points, whilst the ratio in the UK is a paltry 23:1.  Yes a ratio of 23:1.  There are around 840,000 fully electric cars on UK roads, using 37,055 public electric vehicle charging devices.  Driving in France is a good idea after all and is certainly less stressful than our recent experience in the UK.
My wife commented as we headed for Calais on the last day, "You can see the impact of all those vineyard purchases on our miles/kWh."  Certain sacrifices are worth it though.
The south of Italy still does not look great, but at least IONITY has taken notice of Italy south of Tuscany.
                       IONITY Coverage 2022                                                                    IONITY Coverage 2023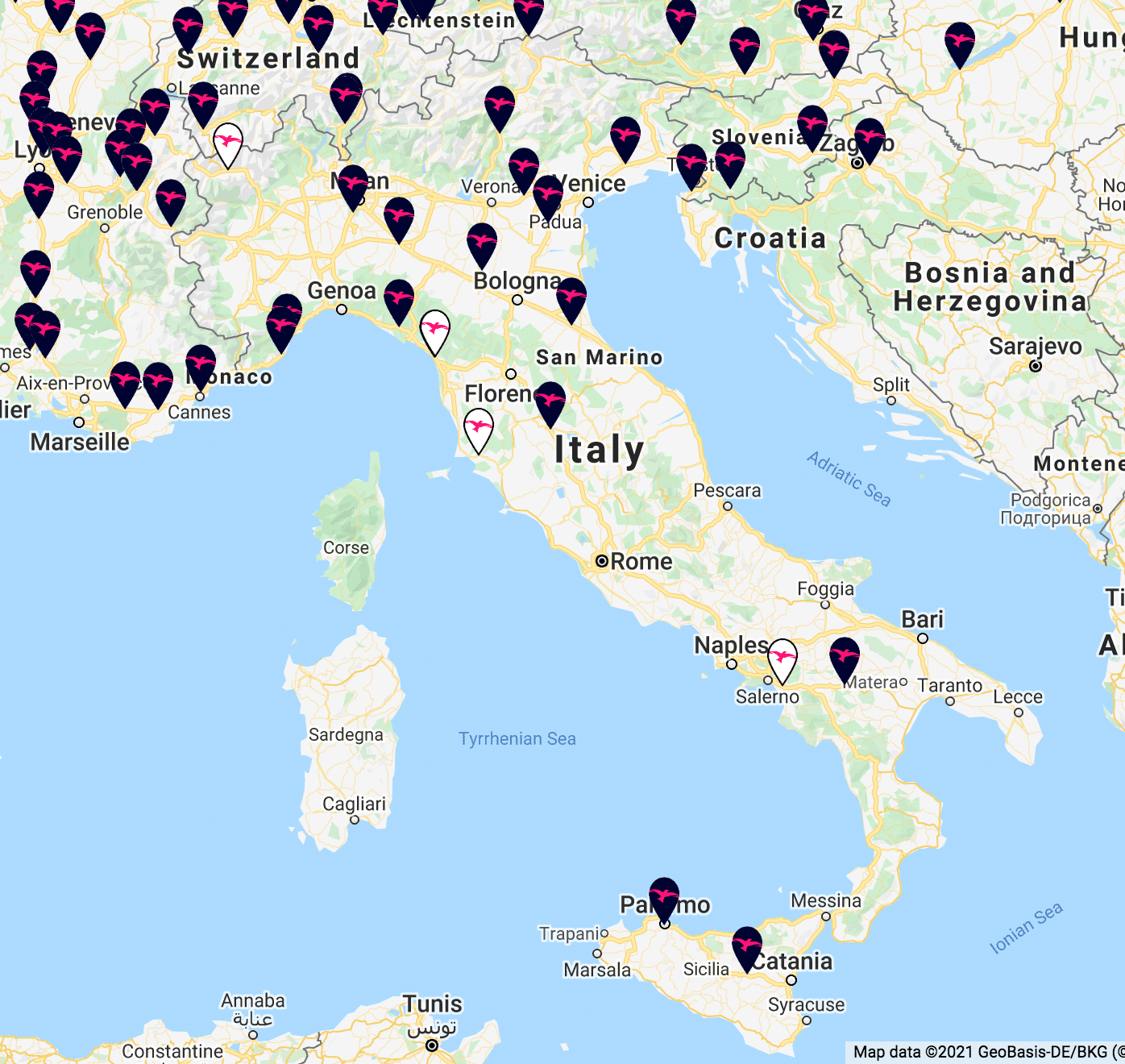 .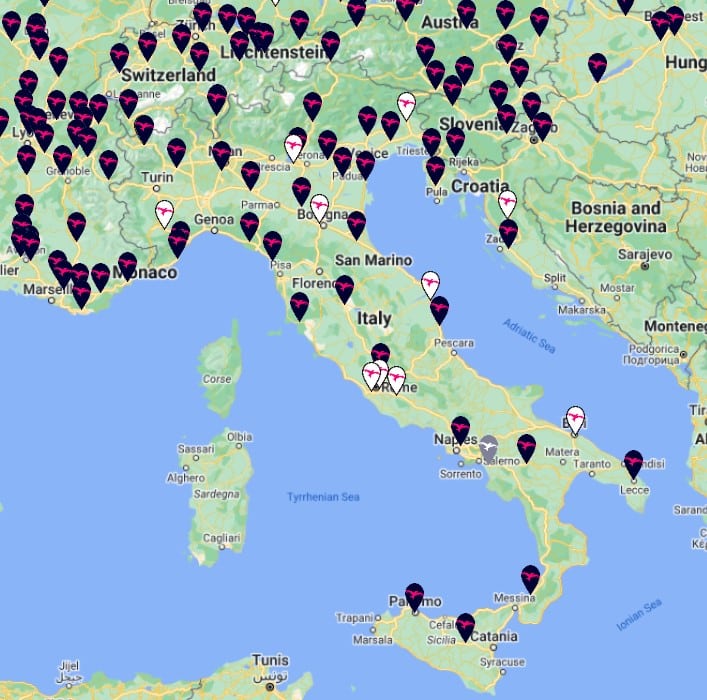 Mind you if you look at the IONITY map of the UK we do not look much better!
Glen Winkfield
glenw@ghginsight.com
24th August 2023
© 2023 Sustainability Vision Ltd
Glen Winkfield is Marketing Director of Sustainability Vision Ltd. Through GHGi Analytics, its cloud-based solutions, the company provides tools for organisations to measure, analyse and report their GHG emissions. Also available is GHGi Commuting is solution covering employee Commuting and homeworking and GHGi Leasing that allows vehicle leasing and rental companies to measure and report the emissions from their vehicle portfolios.  Sustainability Vision also offers help to organisations of all sizes, needing to develop a strategy to reach Net Zero.