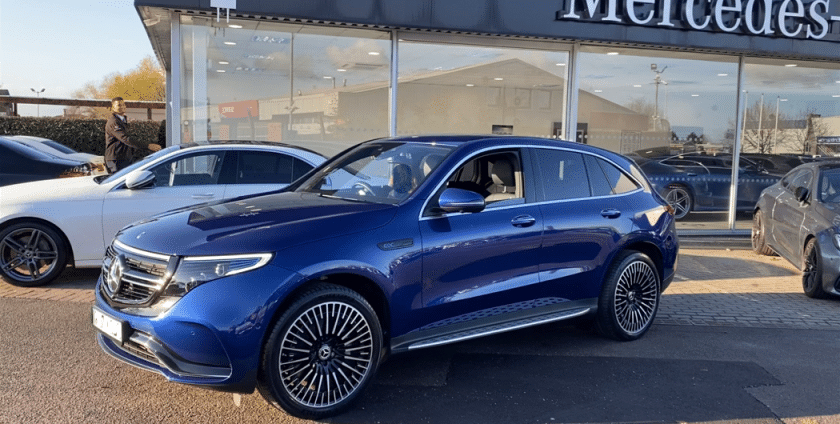 5 Things I wish that I had known before I bought a Battery Electric Vehicle.
We recently bought a Mercedes EQC, Battery Electric Vehicle as a family car.  It is a great car to drive, comfortable, quiet, well laid out, roomy and very quick.  That said, there is a lot I wish that I had known before buying the car.  We have had the car for a month now and have experienced a very steep learning curve.  For both cost and convenience, we knew that we needed a home charger, so installed a standard 7.2kW unit.  It will charge a 90kWh battery from 20% to 90% in eight to nine hours.  We usually do this overnight.  However, there are 5 things I wish that I had known before we bought a Battery Electric Vehicle.
1.  The Salesmen are not as well informed as they should be.
We visited Tesla, Jaguar and Mercedes Benz dealerships.  But apart from Tesla the salesmen (and they were all men) were not well informed.  As an example. Mercedes supplies a charging cable with a Type 2 plug, which in theory will support a power rating of 3-42kW.  On our first long-distance trip, two days after getting the car, we plugged-in at a Tesco store, to top-up the battery.  We were somewhat shocked to discover that the 40kW charge point was only delivering 7kW.  Apparently, Mercedes limits the power from a Type 2 plug to 7.2kW.  I later questioned the salesman about this and he knew nothing about this issue.  I am not singling out Mercedes, but it is a good example of the limited knowledge salesmen seem to have.
2.  How long it really takes to charge your car
The charging times that you find on the Web are in my experience pure fiction.  "Officially", there are three main types of chargers and the EDF Website outlines them:
Slow – up to 3kW, 8-10 hours to fully charge.
Fast – 7kW to 22kW, 3-4 hours to fully charge.
Rapid – 43kW and over, 30-60 minutes to fully charge.

Slow.  Generally, these need a cable with a standard 13-amp plug.  Tesla say it would take between 24 – 30 hours to fully charge of a modern Battery Electric Vehicle.  These are AC chargers.  You can ignore these.

Fast.  I do not consider a 7kW charger to be fast.  My 7.2kW home charge, took 12 hours to charge the car from 10% to 100%.  These are usually AC chargers.

Rapid.  At 43kW and over this is the only type of charging that I would consider to be reasonable to use for long journeys.  I got about 60 miles in 30 minutes from a 54kW charger.  The Rapid chargers are all DC chargers.

Lower power chargers (up to 42kW) are AC, whilst high power, rapid chargers are DC.

I think that the categorisation used by Mercedes on its satnav based Smart Charge is much more realistic:

Slow

Standard 7 kW charger.  You often find these at supermarkets.  I would use one if my battery is really low and needed the miles to get to a faster charge-point.

Fast

40kW to 50kW charger.  This is typically the type of charge you will need to use on long journeys.

Rapid

100kW to 150kW.  These are few and far between and I have not tried one yet.  However, a 15-to-20-minute charge will get you a long way.  There are concerns that they could reduce battery life if used too often.  As long as you do not use one for every charge you should be okay.

NOTE: For Rapid chargers, your car may not charge at the maximum rate shown.  It depends on; the initial charge in the battery, capacity of the battery and any limitations imposed by the manufacturer.  The charging rate will also drop as the battery charges.

3.    The Charging Network is currently not that great

As we quickly found out, the number of chargers worth stopping at is limited.  There are two main reasons for this.

First, the number of what I consider fast-charge points is small.  On the map of the local Loughborough area below, courtesy of ZapMap, you will see a large number of blue symbols indicating 7.2kW charge points.  These are not practical for charging on a long journey due to the time it takes to charge. There are very few pink symbols indicating 43kW or 50kW charge-points, that are needed for long journeys.

Secondly, reliability is an issue.  Take motorway services; apart from Tesla, Ecotricity is the only EV charging company present. We visited several charging sites before we got the new car and found that the number of charging points were limited and, on each occasion, found that not all were working.  Ecotricity has had a bad press in the past for reliability.  The new owners of the network have promised more investment, but our experience suggests that this has not yet had an impact.

On a visit to Ross-on-Wye in November we found that two of the town's fast-charge points was out of action.  The Jaguar I-Pace driver we met there told us that this type of thing was not unusual.  ZapMap usually tells you if a charger is working or not, but it cannot always be up to date.

The Carbuyer website recently published its Top 9 best car charge point providers 2021/2022.  It is quite revealing.

4.  Charging a car away from home is not that simple

There are several things that we found out the hard way.

First, unless you are a Tesla owner, finding a charging-point can be a real issue.  Tesla worked out early on, that if it wanted to sell cars, it had to minimise range anxiety.  It did this by building its own 120 kW charging network and incorporating its charging point locations into its car's satnav.  They almost insist that you program your long journeys, even if you know the route, because the Tesla satnav will work out where you need to stop and for how long

A similar facility is also available from other manufacturers, but they do not seem to promote it as enthusiastically.

I agree with the Tesla recommendation, but I would go one step further.  Most people program their satnav for their initial destination, then program it again for the return trip.  In an electric vehicle, I advise you to program both legs before you start off.  This means the satnav can choose the optimum charging stop for the complete journey.

Secondly, smartphone apps are essential for several reasons.

Paying for a charge can be a problem. Although most charging points will take most credit card types, I have found some that some do not.  If you are looking for a charge point, Zap-Map is the App that most people seem to recommend.  It claims to map over 25,000 charge points and Jaguar recommends it as a payment App.  I have used it for finding charging points in an emergency.
If you are claiming business mileage from your company, using one of these apps is essential. They have a detailed record of all the transactions, although I have not yet found one with an export function.  A credit card bill will give the amount, but it is usually set amongst a lot of other personal purchases and has limited detail.
Registering with an App will often reduce the price (although you may have to load credit onto the card) and paying a monthly fee will usually bring the price down further.
For example, as a Mercedes owner we have a Mercedes me card, which for a monthly fee allows us to use certain charge points at a discount.  The BP Pulse network comes as standard and IONITY is available for an additional fee.  IONITY is expensive for occasional use (69p per kWh), but the Mercedes card more than halves the cost.

I have also found that the BP Pulse App and Shell Recharge App to be useful.

5.  Knowing which Charge point connectors you can use.

You need to be sure that the charging point that you use will connect to your car at the charging rate you want.  The three most common connectors are:

Type 2 Plug.

This is an AC charger and is becoming the standard European cable connector.  It has a built in locking mechanism and is used for 3-42kW AC, Single Phase/Three Phase chargers.

Combined Charging System (CCS) plug

This looks like a Type 2 connector with an add-on.  The socket in the car is designed to accept Type 2 and CCS.  Its has a power rating of 50-350kW DC.  It looks likely to become the most popular DC connector as it is the most versatile.

CHAdeMO plug

This is a DC charger of up to 50kW DC.  It is an older type of "rapid "charger, compatible with Japanese car manufacturers and common due to the popularity of the Nissan Leaf.

Check which plug types are available before heading for a charging point.  Note, Mercedes Benz limit their Type 2 plugs to 7.2kW.

Apart from the plug types, charging points are in two types, Tethered and Un-tethered.  Charging points with cables are tethered, those without are untethered.  Most commercial charging points are tethered, and most have all three plug types.  Many lower power chargers, such as you find at supermarkets, are un-tethered and many are only Type 2.  Home chargers can be either tethered or un-tethered.

Conclusion

These are the 5 Things I wish that I had known before we bought a Battery Electric Vehicle. Knowledge of these would have made our first month's ownership of a battery electric vehicle much less stressful.  Do we regret buying the car?  If you had asked me that question two weeks ago, I might well have said yes, but today I believe that we made the correct decision.

My one remaining concern is long distance motoring in Europe.  On the journey 680-mile journey to La Rochelle, on the French Atlantic coast, we would need to stop to charge four times for a total of almost four hours.  We have not done this yet so I cannot give any personal advice, but from what I have read, "heaven help you".

If you are planning to drive in Europe, the AA Website is a good place to start.

Glen Winkfield
glenw@ghginsight.com

14th January 2022
Further Information
If you'd like further information on Greenhouse Gas reporting, Streamlined Energy and Carbon Reporting (SECR), supplier environmental questionnaires, or how to achieve zero carbon emissions, then please contact Glen Winkfield at glenw@ghginsight.com. or follow this link…