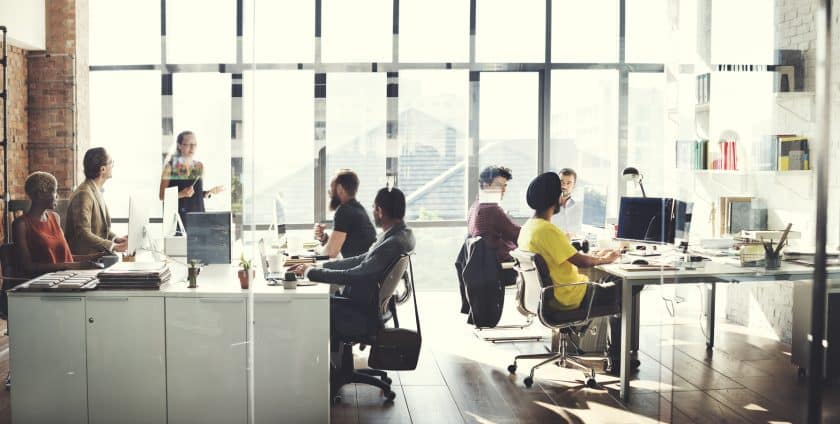 SECR Guidance for Companies with Small Workforces
Companies with workforces below 250, can still be liable to report their emissions under SECR (Streamlined Energy and Carbon Reporting).  The Annual Turnover (£36m) and Balance Sheet (£18m) being the criteria that compels compliance.  Cloud based GHGi Analytics is designed to simplify SECR reporting for all sizes of organisation, but its simplicity is particularly useful for smaller ones.  Its simplicity makes it ideal reporting tool SECR for Companies with Small Workforces
What Needs to be Reported?
SECR requires the organisation to report both Energy usage in kWh (kilowatt hours) and Greenhouse Gas Emissions in tCO2e (tonnes of carbon oxide equivalent).  CO2e is the standard measure used to calculate emissions and comprises:
| | |
| --- | --- |
| ·   Carbon Dioxide (CO2) | ·   Perfluorocarbons (PFCs) |
| ·   Methane (CH4) | ·   Sulphur hexafluoride (SF6) |
| ·   Nitrous Oxide (N2O) | ·   Nitrogen trifluoride (NF3). |
| ·   Hydrofluorocarbons (HFCs) | |
Energy Categories
There are three categories of energy usage that SECR requires to be reported.
Gas
This includes Natural gas, LPG (Liquid Petroleum Gas) and any other gases used for heating or other energy supply purposes.  It applies to gas used in stationary combustion and not to gas used in transport.  That is recorded in the Transport section.  This section does not include gases used in refrigeration or air-conditioning, usually described as F-gases.
Electricity
This is electricity purchased from the grid and metered on your premises.  Any solar or wind power used must not be reported, even if you are charged for it.
Transport
This applies to all vehicles owned or controlled by the organisation.  For small organisations this is usually company cars, personal cars used for business purposes and hire cars.  Onsite vehicles like fork-lift trucks are also included.  In some rare cases, it could include aircraft or water-craft if they are owned by the organisation.
Fuel types will include, diesel, petrol, LPG, CNG, Hybrid and plug-in hybrids.  The power used for Battery electric vehicles are dealt with slightly differently.  If the vehicles are charged onsite, the emissions are deemed to have been reported under the Electricity section.
If the expenses system is used to reclaim the cost of charging at home or at a public charging point, the energy usage is reported in the Transport section.  GHGi Analytics is designed to easily deal with electric vehicles in its transport section, whether the information is available in miles or kWh.
For SECR, the energy usage for Business travel in privately owned vehicles is included under the transport section along with company owned vehicles.
Important SECR Exclusions
Surprisingly, the use of oil and solid fuels are deliberately excluded from SECR.  So, if you have oil or coal fired heating systems you do not need to record or report them.  GHGi Analytics will allow you to record these fuel types, and a variety of others for alternative disclosure options and use in Net Zero planning.  However, the system will not include them in SECR submission.  Please note that these exclusions do not apply to the GHG Protocol Corporate Standard (See the section What are Scopes? below).
Emissions Categories
The emissions categories required by SECR are essentially the same as the energy categories.  The difference is that transport emissions are split into two sections.
Gas
Electricity
Transport, vehicles owned or controlled by the organisation
Transport, rented or privately owned vehicles used for business travel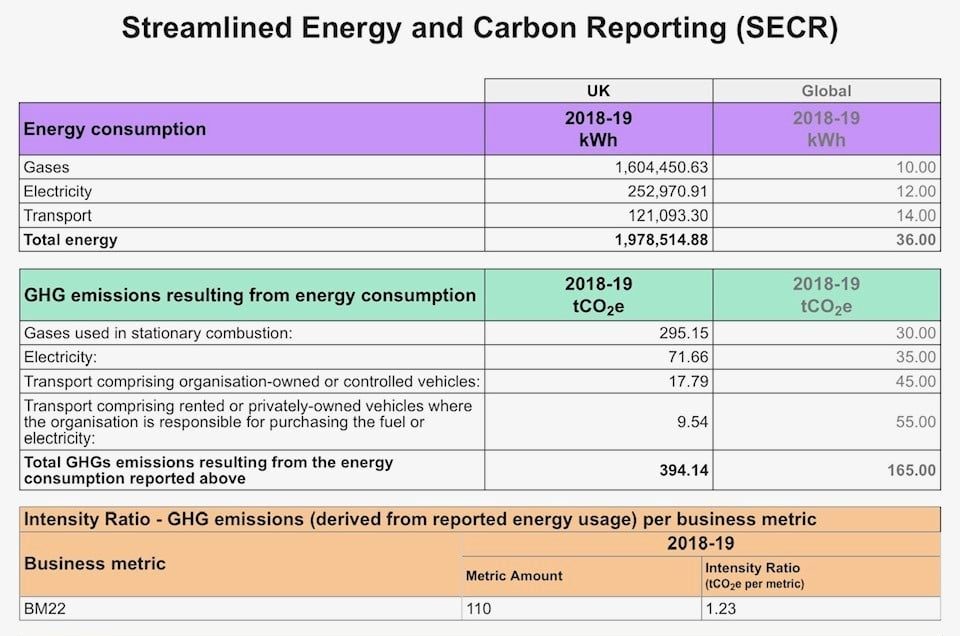 Recording the Data
For SECR the input data is obtained in the following way:
Gas
For Natural Gas, this is metered and smaller organisations receive either a monthly or quarterly gas bill.  A gas meter is set up within GHGi Analytics, quantities from the gas bill are entered into the system. If there is more than one gas meter, others can be set up.  For LPG etc., a fuel point is set up within GHGi Analytics and the weight or volume obtained from the invoice.
Electricity
Most small organisations will have one or perhaps two electricity meters.  A meter is set up within GHGi Analytics and the number of kWh used is entered into the system from the electricity bill.
Transport
Although the energy used by transport is recorded as a single amount.  The emissions from transport are recorded under two categories depending on the ownership of the vehicles in question.  This is slightly different from the widely used Greenhouse Gas Protocol Corporate Standard.  GHGi Analytics deals with these issues so you do not have to.
Situation 1 – The organisation pays for all the fuel used in an organisation owned or controlled vehicle.  Many organisations will use a fuel payment card, such as AllStar or Keyfuel.  In this case the number of litres for each of the fuels, normally diesel, petrol and occasionally LPG are totalled separately.  There is no difference between Derv and Premium Derv diesel in emissions terms.  Similarly, there is no difference between Unleaded and Premium Unleaded petrol for emissions reporting.  Within GHGi Analytics, a Fuel point is setup for each type of fuel and the quantities entered from the regular invoice.
Employees often pay for the fuel personally and reclaim the total cost of it through the expenses system.  If this is the case, the volumes of fuel in litres must be taken from there.  Petrol and diesel being entered into relevant Fuel point.
Situation 2 – The employee claims back mileage in a privately owned vehicle or the cost of fuel in a rented vehicle.  First, privately owned vehicles used for business travel.  In this case the organisation pays the employee a mileage rate to cover the cost of fuel.  As the information available from the expenses system varies for different organisations, GHGi Analytics allows the user to select from one of five different options depending on the amount of detail available.
Secondly, business travel in a rented vehicle.  In this case the employee again recoups the cost of fuel from the organisation.  However, to obtain the energy used and emissions produced, Method 3 in the Travel section of GHGi Analytics is used.  This requires the mileage travelled, found on the hire car company's paperwork, and the fuel type of the vehicle.
Intensity Ratio
SECR Requires that you define and report an Intensity Ratio for the organisation.  The intensity ratio is a way of defining your GHG emissions in relation to a business metric appropriate to the business conducted by the organisation.  Examples include:
tonnes of CO2e per sales revenue in the relevant currency (£, $, €)
tonnes of CO2e per total square metres of floor space(m2)
tonnes of CO2e per full time equivalent (FTE)
For Example:
Intensity Ratio – GHG Emissions (derived from reported energy usage) per business metric

Business metric

2021-22
Metric Amount
Intensity Ratio
(tCO2e per FTE)
Full Time Equivalent
50
1.84
Methodology
SECR requires that you declare the methodology used to calculate your GHG Emissions.  GHGi Analytics complies with the methodology developed by Greenhouse Gas Protocol Corporate Standard.  The concept of emissions Scopes was developed by this organisation.
Narrative
This section is where you describe the actions undertaken during the year to measure and reduce your Greenhouse Gas emissions.  It should also contain an outline of your reduction plans for the following year.
Other Information
In this section you can cover any aspect of the report that you might consider important.  It could include any omissions to the report and the reason for so doing.
To download the UK Government's Environmental Guidance document and learn why it thinks SECR for Companies with Small Workforces is important, click here…
Glen Winkfield
glenw@ghginsight.com
27th March 2023
© 2023 Sustainability Vision Ltd
Glen Winkfield is Marketing Director of Sustainability Vision Ltd. Through GHGi Analytics, its cloud-based solutions, the company provides tools for organisation's to measure, analyse and report their GHG emissions. Also available is GHGi Commuting is solution covering employee commuting and homeworking.  Sustainability Vision also offers help to organisations of all sizes, needing to develop a strategy to reach Net Zero.