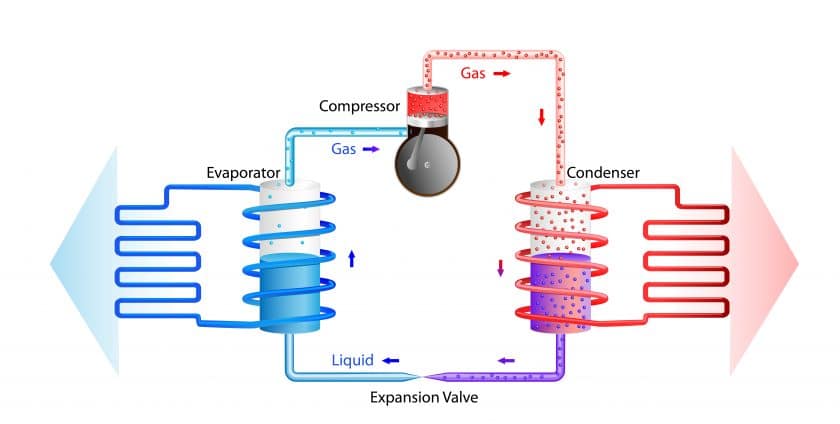 Heat Pumps the low emissions Solution
Air Source Heat Pumps (ASHPs) and Ground Source Heat Pumps (GSHPs) are seen by many as the low emissions solution and the future for the heating and cooling of buildings, both domestic and commercial.
In the same way a refrigerator extracts heat from its contents and expels it into the room, heat pumps use the same principle to take heat from the air or the ground to heat a building.    Air Source Heat Pumps are mounted on the outside of a building, either on the ground or on a wall.  For Ground Source Heat Pumps, pipes are buried in the ground over a significant area, sometimes, vertical boreholes with a depth of 80-150 meters are used instead
Emissions
Heat pumps can significantly reduce your direct greenhouse gas emissions by eliminating the need to burn natural gas or oil onsite.  Some estimates claim a reduction of up to 80% of emissions.  However, both systems require electricity to function, but the use of renewable electricity (solar panels on the roof perhaps) would result in zero emissions.
Energy Efficiency
Whereas the air temperature can vary substantially.  Air source heat pumps will continue to operate at temperatures of around -15°C.  However, the colder the temperature, the harder an it has to work.  As a result, an Air source heat pumps requires more electricity to produce the same amount of heat than a Ground Source Heat Pump would use under the same conditions.  So, in winter when it would be most needed an Air Source Heat Pump is at its least efficient.
Installation and Costs
There is both an external and an internal component to the installation of heat pumps.  Capital costs can be substantial particularly with ground source hear pumps.
External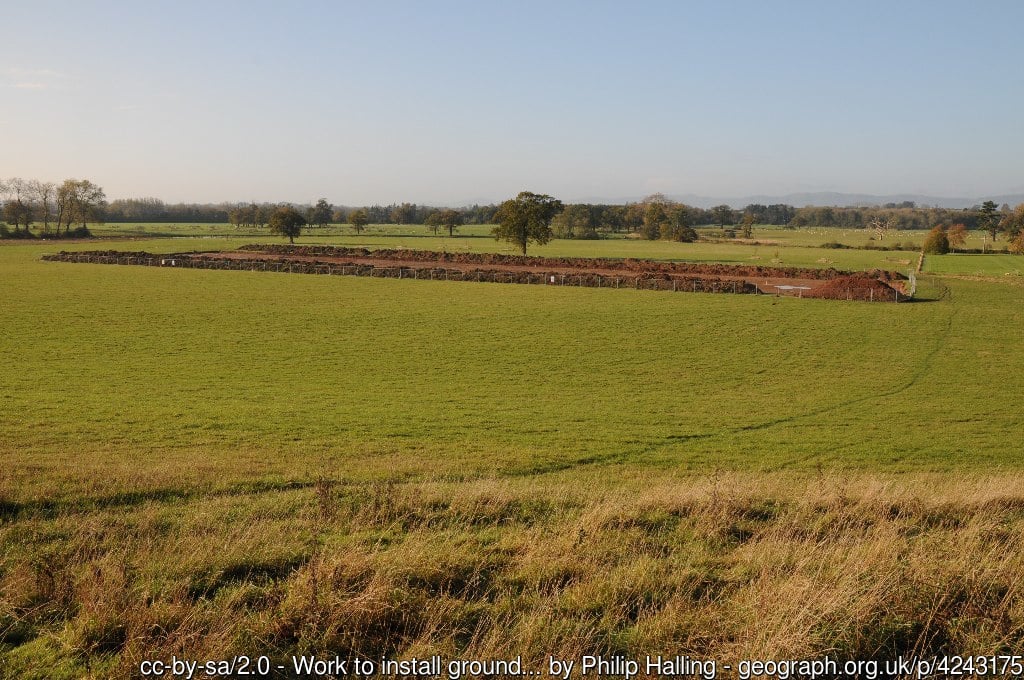 For Ground Source Heat Pump, a large surface area is required to provide enough heat and this may not be available.  As an example, an area of around 3,500sq/m are required to produce around 50kW;  enough to heat a building the equivalent of 6 to 7 four bedroomed houses.  It would take the form of several trenches, 1.2m deep 1.2m wide and 5m apart.  The cost would be between £65,000 to £185,000.  A carpark, if available, could be used, but there would be disruption caused by digging it up.  Drilling an 80 to 150 metre hole, can be an alternative, is perhaps less disruptive, but may also more expensive.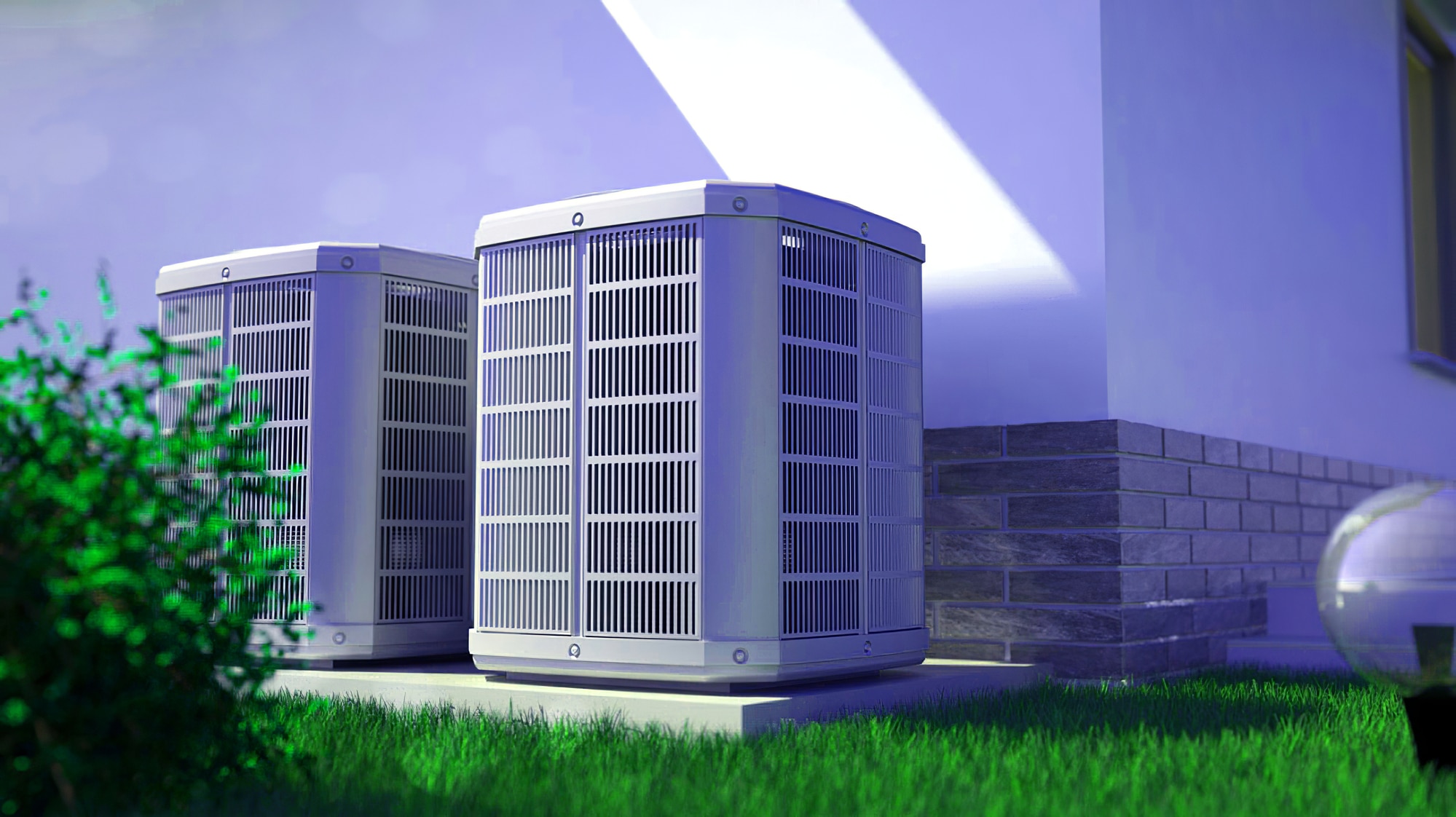 Air Source Heat Pumps resemble air-conditioning units and are normally mounted on the ground by the building or mounted on its walls.  Most Air Source Heat Pumps generate between 4-15kW (enough to heat a four bedroomed house) and the pump itself will cost between £4,000 and £8,000.
Internal
The installation of a Heat Pump heating system is not simply a case of exchanging an old oil or gas boiler for a Ground Source or Air Source heat pump.  They work quite differently and the installation requires a complete heating system upgrade.  Heat pumps have a "Lower Heat Supply" compared to oil and gas boilers this is mainly because they operate at higher efficiency with lower flow temperatures (the temperature of the water in the heating system).  Heat pump systems can heat water to a temperature of between 35°C and 55°C (the heat supply temperature of the water in a traditional heating system is between 75 °C and 85 °C). This has several implications: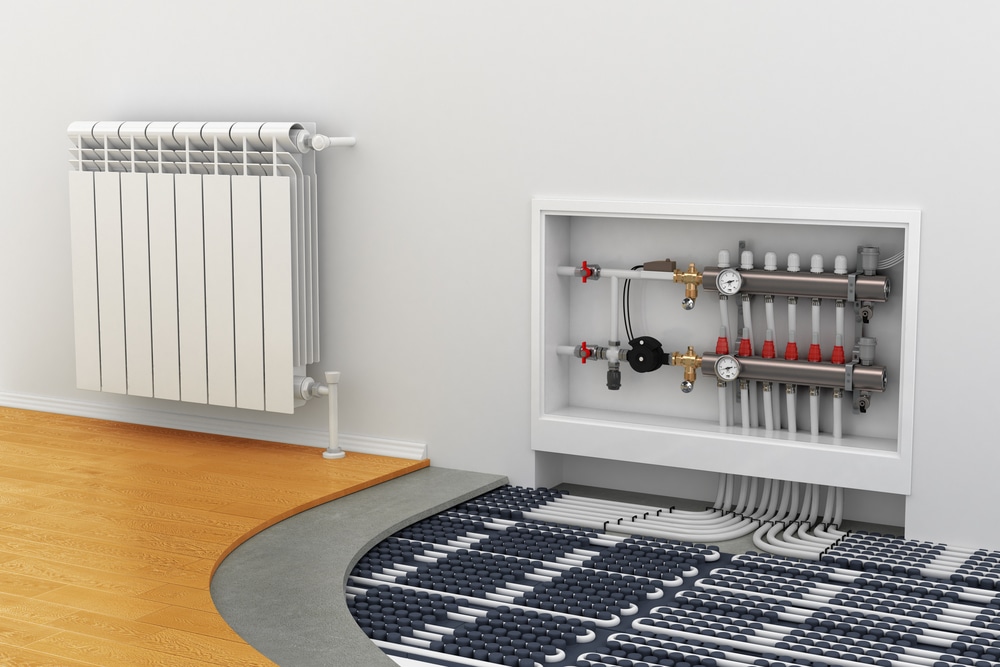 Radiators need to be much larger that normal in order to provide the same level of heating
They work much better with underfloor heating. Warm air heating works well, particularly when large radiators are part of the system.
Buildings have to be well insulated in the first place in order for the heat to be retained. New insulation will probably ne necessary.  These systems are not suitable for drafty warehouses.
Capital costs aside, moving from oil, electricity or an old gas boiler, to a heat pump could deliver substantial savings in running costs.  However, if you are currently using a modern, efficient gas boiler, any savings are likely to be minimal.  However, for most organisations need to minimise carbon emissions as part of achieving Net Zero will be the driving force.  Savings on running costs are not likely not the deciding factor.
Maintenance
Heat pumps require less maintenance (every 3 to 5 years) than heating systems using oil or gas, which are usually serviced annually.
Lifespan
Air Source Heat Pumps are generally said to have a 15-year lifespan, although some newer models claim up to 25 years.
The external ground source heat pump piping system is estimated to have a 50-100 year lifespan, whilst the heat pump itself is said to be 20-25 years.
Grants
The Non-domestic Renewable Heat Incentive (RHI) helps businesses, public sector and non-profit organisations meet the cost of installing renewable heat technologies.  It applies to a number of heating types including heat pumps and payments are made over a period of 20 years based on the heat output of the system. The calculation is quite complex and can currently be found in the Non-Domestic RHI tariff table (Q3 2020/21) spreadsheet.  Air source heat pumps receiving 2.79p/kWh and ground source heat pumps receiving 5.58p/kWh for Tier1 and 1.66p/kWh for Tier 2
Considerations
Air Source Heat Pumps
The external installation of an air source heat pump is much easier and less disruptive than a ground source system and the upfront costs are substantially lower.  Internally, the level of disruption of an installation is the same for both air source and ground source heat pumps; i.e., considerable.
They are less efficient in very cold weather, although for most parts of the UK this should not be a major problem.  Their lifespan is good but not as long as a ground source system.  Air Source Heat Pumps can be noisy, which is mentioned as a disadvantage in many descriptions.  Noise levels are described as like a large air-conditioning system or light rainfall.  This could be a significant factor in some situations.
Ground Source Heat Pump
The external installation of a ground source heat pump takes longer and is more disruptive than an air source system.  Its capital costs are also considerably more than an air source system.
That said, they are not affected by the weather, have a long lifespan and can be amortised over a longer period.
General Considerations
Unless the building already has underfloor heating, retrofitting any heat pump system is likely to disruptive.  If the current system is based on a modern efficient gas boiler there are unlikely to be any savings in running costs.
On the plus side, there is no need for fuel storage and some models also allow for cooling of the building.  Perhaps most important of all, combined with renewable energy, they are carbon neutral.
A high level of insulation is a prerequisite for any heat pump installation.  That said, improving the insulation of buildings is a major element of achieving Net Zero.
Conclusion
Organisations will increasingly come under pressure from various sources to comply with the UK Government's Net Zero initiative.  Moving to renewable heat technologies is seen as an important element of the initiative, and organisations should make this part of their Net Zero planning.  The non-domestic Renewable Heat Incentive (RHI) run by Ofgem, should make the investment more palatable.
Glen Winkfield
glenw@ghginsight.com
5th October 2020