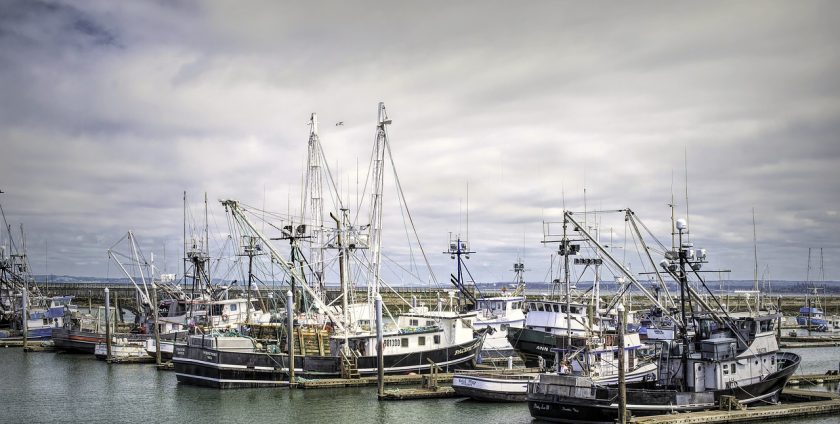 A recent study published in the journal Nature, demonstrates some unpleasant facts about bottom trawling for fish.  Namely that it results in carbon emissions higher than that of pre-pandemic global aviation (around 2%).  Unlike aviation, bottom trawling could be eliminated completely.  All the more so because it is unprofitable without the current substantial government subsidies. Bottom Trawling is a climate change disaster and uneconomic.
Why is Bottom Trawling a climate change disaster?
Bottom trawling involves fishing fleets dragging enormous weighted nets along the ocean floor.  They catch shellfish, whiting and cod, amongst other species.  The process not only strips the area of virtually all the fish but also seriously damages their habitat.  The report's lead author, marine biologist Enric Sala said, "most locations have been trawled so many times, there is little left worth catching".  A 2017 study by PNAS details the type of damage done.  That study stated; it takes the seabed 1.9 to 6.4 years to recover from a trawl, depending on the type of seabed and the trawl gear used.
The study was not initially designed to look at GHG emissions, and the researchers were amazed by what they discovered.  They calculated that bottom trawling was responsible for one gigaton (Gt) (i.e., 1,000 million tons) of CO2 emissions a year.  The UK's emissions in 2019 were 351.5 million tonnes (Mt) of CO2e.
Bottom trawling disturbs the sediments on the seabed releasing some of the carbon it contains.  Microbes break this is down and turn it into into carbon dioxide (CO2).  Some finds it way into the atmosphere contributing to global warming.  Some remains in the water increasing its acidity.  This in turn both harms the marine environment, particularly coral reefs. It also reduces the amount of CO2 the ocean can absorb from the air above it.  To learn more about this process read Item 10 in our blog, Top Ten Carbon Capture options – Part Two.
Other types of trawling, including the most common type of trawl – demersal otter trawling – has a lower environmental impact, and are far less damaging.  Trawling of all type's accounts for only 20% of worldwide fish landings.  Vessels using drifting longlines accounting the highest number of boats.
The Culprits
The countries with the highest emissions from bottom trawling are China, (responsible for around three-quarters of these emissions), followed by Russia, Italy, Britain, Denmark, France, the Netherlands, Norway, Croatia and Spain.  Paper co-author Trisha Atwood of Utah State University said in an interview with the Thomson Reuters Foundation, "Areas where greater protection could cut carbon emissions, and boost marine biodiversity and food supplies, include the China Sea, the North Sea and the Adriatic".
The Solution
The solution proposed by the study centres upon greater protection of the oceans.  The team of 26 scientists and conservationists recommends an increase in marine protected areas (MPAs).  This would be the most effective way to restore biodiversity, expand seafood supplies and store climate-heating greenhouse gasses.  Currently less than 7% of the ocean has been designated as an MPA .  Importantly, under 3% enjoy complete protection from fishing, mining and other destructive activities.
The study suggests that eliminating 90% of the risk of damage due to bottom trawling, would require banning industrial fishing in only 3.6% of the world's oceans.  This would be done within the exclusive economic zones (EEZs) that stretch 200 nautical miles (370 km) from a nation's shoreline.
The scientists state that far from reducing food supplies, "Closing areas to fishing and other destructive practices leads to a six-fold increase in the biomass of fish within a decade".  They say "that protecting the right areas will help replenish fish supplies in the surrounding areas boosting catches globally by more than 8 million tonnes". This is 10 per cent of global catch in 2018.
What Next?
The study stated that, "Countries with the highest potential to curb emissions by protecting ocean carbon stocks are those with large EEZs and industrial bottom-trawl fisheries".  This puts the UK at the heart of both the problem and the solution.  However, it will not be easy for a UK government of any complexion to act, even if it wanted to.
First, fishing appears to have an influence far outstripping its importance to the UK economy (0.02% GDP), witness Brexit.  This is primarily political and partly social.  Secondly, the Brexit deal means that EU boats will continue to fish UK waters in significant numbers up to 2026.  This will continue after that date but possibly in more limited numbers.  I don't think that the EU will give up its fishing rights willingly.  They have their own political problems.
The UN Convention on Biological Diversity conference is due to be held in May 2021.  Let's hope that those attending will consider the implications presented in the study and take action.
If you are interested, the Marine Stewardship Council has published a useful article on the more usual type of GHG emissions, called Climate Change and Fishing.
Glen Winkfield
glenw@ghginsight.com
25th March 2021